Application for Researcher
BER-PLOT

With the development of communications technology, efficient and quick evaluation for the communication quality is desired. "BER-PLOT" provides you with many functions for analyzing BER performances. From research usage to data sheet of product development, we offer a wide variety of applications. You also can make a BER performance with the Postscript file format for academic research paper.
Stylish and intuitive user interface
Compact and lightness design
Directly import from Excel file
Set custom image as plot mark
Export commonly-used image file formats
Export Postscript file (EPS)
Immediate preview of Postscript
Edit standard mark
Draw linear approximation
Tunable BER range from 10-2 to 10-16
Show Real-time x/y coodinates
Automatic analysis of power penalty
Measure distance between two points
Reasonable Price !
Let's enjoy Bit-error-rate life !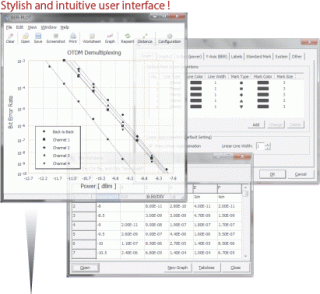 Title
BER-PLOT
Version
1.00
Language
English
Licence
Shareware
Order via
Paypal
Price
$98.

00

(Electronic Delivery)
Export formats
bmp / jpg / gif / png / eps
Platform
Windows 9x, 2000, XP, VISTA, 7, 8, 10, 11
Made in
JAPAN